THE SEED

Weight:
25 g
Class:
Normal
ID:
384
THE SEED

Weight:
25 g
Class:
Normal
ID:
385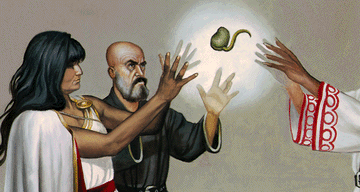 The Seed (often stylized as THE SEED) is a magical artifact combining the greatest magical knowledge on Albion, most notably the High Knowledge of the Oqulo of Kenget Kamulos, and the Metalmagic Knowledge from the Metalmakers of Umajo. Being formed by druids of Dji Cantos, it is the only thing that can stop the Toronto.
Conception
Having returned with Joe Bernard from the Toronto, Tom informed the Dji Cantos about the AI's plans to deplete the planet of resources without the crew noticing.
After long discussion among themselves and Rainer Hofstedt, the Enlightened Ones finally found a way to stop the metal colossus. Rather than attacking the ship itself, the embodiment of Animenkna, the weapon would use the power of the fusion reactor to transform it into a different form of energy. Although the exact result was unpredictable, and it was to be the most difficult magic operation the Dji Cantos have ever undertaken, they gave it a chance.
The druids had most of the information needed to produce the Seed at hand, but two key pieces were missing. The High Knowledge, required to learn how to harness large amounts of energy, held by the Kenget Kamulos, and the Metalmagic Knowledge from Umajo, people who work on the frontier between Animenkna and Animebona.
Despite the difficulties, the party was able to retrieve the crucial components and the Enlightened Ones began working on the ritual. After performing tiresome magic, only Nemos, Drannagh and Harriet remained to perform the last step of the magical act. The Seed was created.
Effects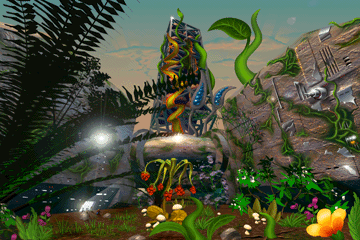 Once need the Seed moved near the reactor aboard the Toronto, it began glowing. The Central Computer proved to be too difficult enemy for the party to overcome, and in despair, Tom threw the glowing Seed at the reactor. Touching the viewing port of the reactor, a bright glow appeared around the Seed, increasing rapidly its intensity. Suddently, a tremble passed through the metal structure of the Toronto along with bright lights flashing from the hull, steel screeching as being torn, just to reveal plant shoots and blossoms pushing through it.
The Seed had sucked all the power from the reactor, shutting the facility, the AI and the whole installation down, transforming the energy to new life all around the place.
Trivia
While the glowing representation of the Seed as an item is present in the game files, it doesn't actually appear in the game. Event in the final fight against the AI, the Seed still looks normal.